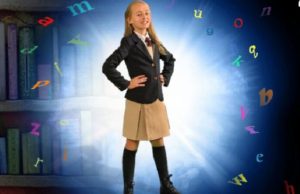 "Our problem is civil obedience," said the people's historian Howard Zinn.
This may sound like an odd way to begin a review of a play, but I think you will agree that it is apropos, since the musical Matilda, based on the book by the impish writer Roald Dahl and produced by Amherst Leisure Services Community Theater, has just opened and will run, most appropriately, through the Sunday of Martin Luther King weekend and continue the following Thursday through Sunday at Bowker Auditorium at the University of Massachusetts.  I like to think MLK would approve.
Didn't Dr. King say that 'Nothing is more dangerous than sincere ignorance and conscientious stupidity."
For these are the enemies that the young girl Matilda, the play's central character, must fight – a battle that resonates very powerfully from the Bowker stage with this inspiring production.  It is hard to believe that it is produced by an amateur theater company, so fantastic is the staging, the sets, the choreography, and the performances. One comes out of this production mesmerized, head swirling, a swing in one's step as one realizes that Matilda is right:
If you sit around and let them get on top of you

You might as well be saying it's okay

And that's not right
So rebel against injustice.
Sometimes a musical can entertain and simultaneously send a powerful social message far more effectively than a thousand political tracts or the repeated admonitions of a teacher.  Oscar Hammerstein's countless lyrics come to mind. Enchanted by Richard Rodgers' music, the listener is instructed by Hammerstein's words: "You've got to be taught to be afraid/Of people whose eyes are oddly made/ And people whose skin is a diff'rent shade/You've got to be carefully taught."
Matilda is filled with such captivating lyrical moments.
"We're told we have to do what we're told, but surely sometimes you have to be a little bit naughty," sings Matilda, as she leads her schoolmates in an uprising against the abusive headmistress, Miss Trunchbull, a sadistic monster who hates children.  Matilda's parents are equally horrible morons who hate books and watch the "telly" constantly for their "reality," as they mock Matilda's interest in reading and deep thinking.  They wish she were never born and refuse to recognize that she is a girl, not a boy, because of her brilliance and love of learning. She fights them also, knowing that "nobody else is gonna put it right for me."
She is sick of them all. She is thoughtful, introspective, philosophical, and an avid reader.  She has gumption, is fearless, and stands up to illegitimate authority figures.  She is an exemplary heroine for our historical moment when ignorance and functional illiteracy have become the norm and American society has devolved into a cacophony of stupidities flashing across electronic screens as cruelty and violence dominate the news.
To enter Bowker Auditorium for this play is take a redemptive bath.  One emerges cleansed and hopeful, filled with joy that revolt against ignorance and cruelty is possible and children can teach us this.  "Darkness cannot drive out darkness," said Dr. King, "only light can do that.  Hate cannot drive out hate; only love can do that."
To say I loved this performance is an understatement.  It blew me away.
Directed masterfully by Dave Grout, choreographed magically by Sue Dresser and musically directed by Cindy Naughton, the entire cast puts on a rousing performance that is lively, funny, disturbing, sad, and deeply moving by turns.
Eric Macksoud is a perfect as Miss Trunchbull, menacing, funny, and demented as he parades around the stage larger than life and dwarfing the large cast of children as the perfect bully. Robert Gustafson as Mr. Wormwood, Matilda's dishonest and repulsive father who is always calling Matilda a boy and touting the telly as the source of all wisdom, is wonderful.  Grace Olmsted as the bimbo Mrs. Wormwood dances and prances and flaunts her shallowness in glorious ways.  Miss Honey, the good teacher, is portrayed by the beautifully-voiced Amelia Morgan-Rothschild in the understated way that conveys the essence of a timid but good woman who is filled with love and care despite her damaged past. Ashleigh Thayer, as Matilda's best friend Lavender is sparkling. Phoebe Hazzard is perfect as the librarian, Mrs. Phelps – hyper-excitable and almost child-like as she reacts to Matilda's mesmerizing story-telling. The large ensemble of children commands the stage with their vibrant singing and dancing.  In short, there is not a weak link in the entire production; everyone is outstanding.
At the heart of this production is the play's star, Sophie Michel, who gives an incandescent performance as Matilda. one that will bring a lump to your throat.  The voice, the acting, the stage presence by Ms. Michel will send you out of the theater flying on a cloud.  She gives a luminous and dazzling performance, and whenever she takes center stage, you will be transfixed.  She is spectacular.
In these dark times, here is a beautiful production of a play that entertains, instructs, and sends the message that we need: Be naughty and revolt.
Or else, as Matilda reminds us:
You might as well be saying that you think it's okay

And that's not right
(Although Sophie Michel is my granddaughter, what I write here is true.)